2022 Hyundai Tucson Towing Capacity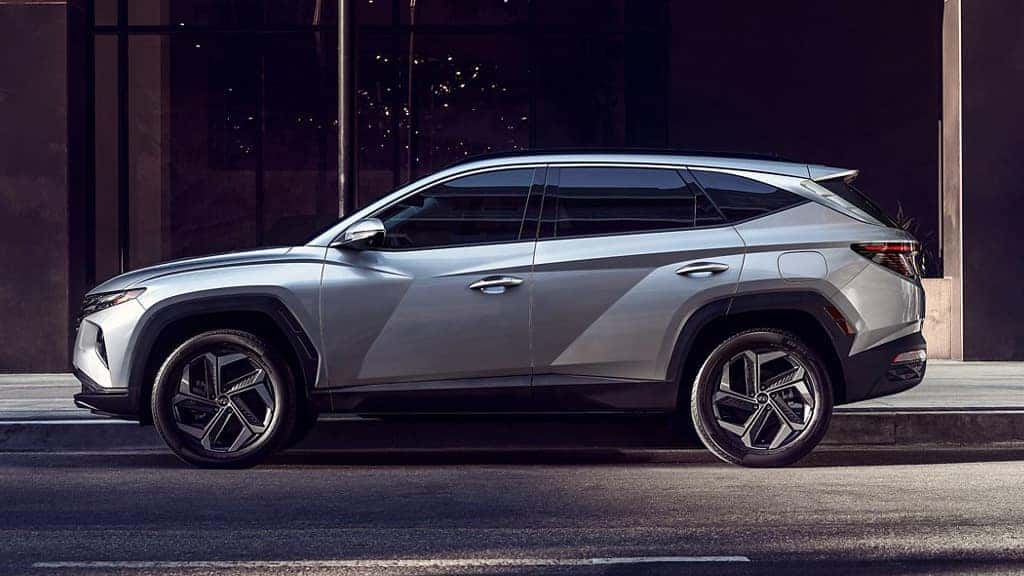 Whether you're planning to purchase the new 2022 Hyundai Tucson, planning an upcoming camping trip, or simply moving many items, your Tucson's towing capacity is an important piece of information you need to know.
The SE and SEL trims of the 2022 Tucson have a 2.5 L engine with 191 HP that can tow up to 2,000 pounds when the trailer is equipped with trailer brakes.
The 2022 Tucson Limited and Calligraphy trims have a more powerful 2.5 L turbo engine with 281 HP that can tow up to 3,500 pounds when the trailer is equipped with trailer brakes.
2022 Hyundai Tucson Towing Capacity Trim Comparison
| | | |
| --- | --- | --- |
| Trim | SE / SEL / Limited | Hybrid |
| Towing Capacity with Trailer Brakes | 2000 | 2000 |
| Towing Capacity without Trailer Brakes | 1650 | 1650 |
| Engine | 2.5 L 187 HP 178 lb.-ft Torque | 1.6 L Turbo with Electric Motor |
| Transmission | 8-speed automatic with SHIFTRONIC® | 6-speed automatic with SHIFTRONIC® |
Extra Tip: Towing capacity is one piece of the towing puzzle. Scroll to the next section to learn what else you need to know for a safe tow.
Things to Know Before You Tow
Knowing your Tucson's towing capacity isn't the only piece of info you need before a safe tow. The following items are equally important to know before you go.
Cargo Room
In addition to knowing how much your Tucson can pull, you might want to know how much you can fit in the trunk. The Hyundai Tucsonhas 41.2 cubic feet of cargo room and expands to 80.3 cubic feet when lowering the 2nd row.
Pro Tip: Lift up the Hyundai Tucson trunk floor cover for extra storage space.

Towing Capacity Defined
The towing capacity of a vehicle is the combined weight of the cargo AND the trailer. Because of this, the trailer's weight must be considered before you tow.
Example:
Your Hyundai Tucson Calligraphy can pull up to 2,000 pounds and you decide to use a trailer that weighs 1,000 pounds. This means that your Tucson can pull up to 1,000 pounds of cargo added to the trailer.
Trailer Payload Capacity: Don't Overstuff Your Trailer
Your Hyundai might be able to pull the fully loaded trailer, but can the trailer carry all that weight? The amount of weight a trailer can hold is its payload capacity. The payload capacity varies with the trailer and is generally found through the manufacturer's website.
Tongue Weight
Knowing the proper tongue weight needed for a safe tow is just as important as knowing the towing capacity. The tongue weight is the amount of force that the trailer exerts on the hitch itself.
●        Too little tongue weight can cause the back end of your Hyundai to lift and your trailer to sway.
●        Too much tongue weight can weigh down and sag the back of your Hyundai while causing the front of the vehicle to point upward. Handling and braking will be negatively affected as a result.
For most trailer applications, tongue weights of 10%-15% of the towing capacity are recommended. Achieve a proper tongue by:
●        Adding or removing weight.
●        Redistributing trailer weight towards the front and back. Moving items towards the front of the trailer increases the tongue weight while moving them to the rear decreases tongue weight.
Check out our new Hyundai Tucson availability at Fremont Hyundai.